False Analogy
From FreeThoughtPedia
Also known under other names as: Weak Analogy, or False Cause depending upon the context, the False Analogy is one of the most common propaganda techniques used. It is especially useful in the field of statistics, politics and advertising.
In a false analogy, two concepts or events are associated with each other without any specific evidence indicating an interactive relationship.
Fox News is one of the great perpetrators of false analogies. Here's a prime example: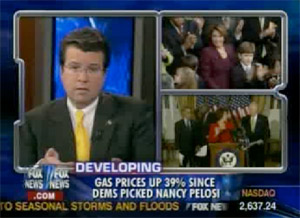 In the above capture from a typical Fox News broadcast, the crawl say, "Gas prices up 39% since Dems picked Nancy Pelosi". Unfortunately, there is absolutely no evidence presented to indicate a cause-effect relationship between Nancy Pelosi becoming speaker of the House of Representatives, and rising gas prices. However, the statement suggests the idea, the false analogy that both the Democrats and Nancy Pelosi are responsible for rising fuel prices.
You can also turn false analogy arguments around to show religious people the error of their ways:
How can you deny holy texts like Iliad and Odyssey Theogony. Look around you, the evidence is all over. Look at the war in Iraq - proof of Ares. The high divorce rate shows Hera isnt happy. Look at the sea, evidence of Poseidon. Look at the exquisite wines and wild parties going on, thats the work of Dionysus. Cant you see great musicians are products of Apollo and great minds of Athena. Why dont you people believe. Are you afraid Zeus will strike you down with lightning. Are you too proud to repent. Why dont you accept the fact that there are beings bigger than you out there. You know what, it is your souls that will be banished to the underworld and befriend Hades.
Obviously such statements are misleading and erroneous. But many people are still influenced by illogical and inaccurate characterizations.
This site costs a lot of money in bandwidth and resources. We are glad to bring it to you free, but would you consider helping support our site by making a donation? Any amount would go a long way towards helping us continue to provide this useful service to the community.

Click on the Paypal button below to donate. Your support is most appreciated!