Carl Sagan
From FreeThoughtPedia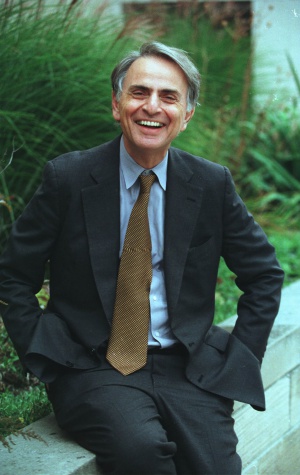 Carl Edward Sagan (November 9, 1934 – December 20, 1996) was an American astronomer, astrophysicist, cosmologist, author and highly successful science popularizer and science communicator in the space and natural sciences. During his lifetime, he published more than 600 scientific papers and popular articles and was author, co-author, or editor of more than 20 books. In his works, he advocated skeptical inquiry and the scientific method. He pioneered exobiology and promoted the Search for Extra-Terrestrial Intelligence (SETI).
Sagan became world-famous for his popular science books and for the award-winning 1980 television series Cosmos: A Personal Voyage, which he narrated and co-wrote.[1] A book to accompany the program was also published. Sagan also wrote the novel Contact, the basis for the 1997 film of the same name.
This site costs a lot of money in bandwidth and resources. We are glad to bring it to you free, but would you consider helping support our site by making a donation? Any amount would go a long way towards helping us continue to provide this useful service to the community.

Click on the Paypal button below to donate. Your support is most appreciated!