Margaret Downey
From FreeThoughtPedia
Margaret Downey Bio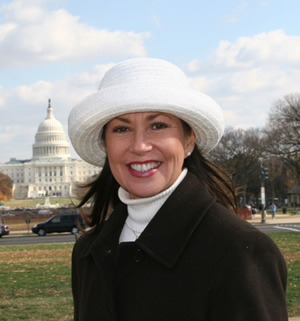 Margaret Downey was born into a multi-cultural family in Baton Rouge, Louisiana. Growing up in a highly prejudiced southern society in the 1950s, Margaret became concerned about persecution from an early age. She has devoted her life to ending any and all discrimination against any and all peoples of the world.
Reading the literary work of Thomas Paine and Robert G. Ingersoll enabled Margaret to develop a keen sense of revolutionary thought. She became an openly declared Atheist and activist in her twenties.
Free from the constraints of religious dogma and patriarchal systems, Margaret became involved with the feminist movement. Margaret fought for basic rights such as freedom of expression, freedom of choice, personal family leave for working parents, equal pay, and promotional opportunities for women.
Margaret was also involved in anti-smoking issues due to her concern with children's health. Being an activist for controversial issues nearly cost Margaret her job twenty-five years ago. The initiatives Margaret worked and sacrificed for then are commonplace today. Even as a single mother Margaret was willing to jeopardize her income to demand respect for women, freedom of choice, freedom of expression, and freedom from religious intrusion.
In 1980 Margaret became a business woman when she established her own interior design service. The independence of being the sole owner of a business enabled Margaret to become more involved in modern day issues. She is active in issues such as maintaining the Jeffersonian wall of church/state separation, freedom from religious intrusion, freedom of choice, and death with dignity.
Margaret founded the Freethought Society of Greater Philadelphia (FSGP) and the Anti-Discrimination Support Network (ADSN) in 1993. In 1994 Margaret founded the Thomas Paine Memorial Committee.
FSGP has taken a strong stand against prayers in public schools, and government sponsored invocations. Through her activism she has assured the placement of Freethought literature in university and public libraries, and the avocation of rational thinking. Through city proclamations, Margaret has established "Freethought Week" and "Thomas Paine Day" in the City of Philadelphia, Pennsylvania. The City of Philadelphia also recognized "Privacy Week" thanks to a proclamation submitted by Margaret in March 1997.
Margaret is editor and publisher of the bi-monthly newsletter published by FSGP. The Greater Philadelphia Story is a newsletter written by and for the Atheist community. As a free-lance journalist Margaret pursues stories of discrimination, choice in dying, humanitarian lifestyles, and family planning. Her newsletter concentrates on activist issues, political and religious satire, separation of church and state, and the advancement of freethought.
The Thomas Paine Memorial Committee has established proper recognition for the memory of Thomas Paine in various Pennsylvania cities including Philadelphia, Lancaster, and York. Margaret is also the author of city proclamations in Cherry Hill, New Jersey and in Garden Grove, California. She also authored the Philadelphia City Council Resolution that declares June 8th as Thomas Paine Day.
ADSN is concerned with discrimination against the Atheist community. ADSN monitors public office positions and public schools. In December of 1991 Margaret filed a discrimination case against the Boy Scouts of America (BSA) through the Human Relations Commission of Pennsylvania. After nearly eight years she lost her case against BSA. In the U.S. Supreme court case James Dale v. Boy Scouts of America, BSA declared itself "private" to avoid the question of open membership thus ending her appeal and many other court cases against BSA's discriminatory membership policy. ADSN efforts are responsible for convincing movie producer Steven Spielberg to disassociate himself from BSA.
ADSN acts immediately upon negative stereotyping by writing letters of complaint that demand the offending party to cease hate speech and issue a public apology and/or retraction. ADSN's "Erasing Prejudice" program distributes information and training methods in order to develop a national speaker's bureau that teaches about tolerance and diversity at elementary, secondary, and university levels.
As ADSN's founder and president, Margaret has represented the interest of the nontheist community (since 1995) at several United Nations conferences and spoke at the United Nations Freedom of Religion and Belief meeting in New York City. She attended the 2001 United Nations Freedom of Religion and Belief Conference in Madrid, Spain.
Margaret is a past board member of the American Humanist Association and the Thomas Paine National Historical Association. She is a current board member of the Freedom From Religion Foundation, The Humanist Institute, the Godless Americans Political Action Committee, Advisory Board Member of the Robert Green Ingersoll Museum, and the Atheist Alliance International. With these connections Margaret can keep her finger on the pulse of the Atheist community. She has become a proud Atheist spokesperson and media representative.
In the year 2002, Margaret became the first Secular Humanist Celebrant in Pennsylvania. Taking advantage of Pennsylvania's "Self-Uniting" marriage licenses; Margaret performs godless weddings and funeral ceremonies.
Margaret has been a guest speaker on National Public Radio's Talk of the Nation and Radio Times. She has also been featured on radio programs in Texas, South Carolina, California, Minnesota, Pennsylvania, Florida, New York, and Georgia, and most recently China. Always willing to travel, Margaret accepts national and international speaking engagements.
She is regularly featured at Atheist/Humanist conferences as a speaker and is well known for her fun-filled presentations which always include visuals, door prizes, props, and well prepared complimentary literature.
See Also
This site costs a lot of money in bandwidth and resources. We are glad to bring it to you free, but would you consider helping support our site by making a donation? Any amount would go a long way towards helping us continue to provide this useful service to the community.

Click on the Paypal button below to donate. Your support is most appreciated!