God of the gaps
From FreeThoughtPedia
This is a phrase represents a rational response to the what some claim, constitutes God's "miracles."
The theist argument essentially follows this formula:
____ phenomenon is not explained by science. Therefore, god must have done it, as there is no other explanation. Ergo, god exists.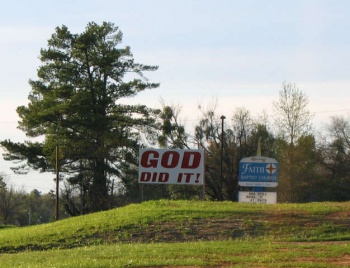 The reason why the term "God of the gaps" was coined is that such an argument is constantly on the retreat, as new and better science is able to explain more phenomena each day.
In ancient times, for example, lightning was unexplained and usually attributed to a god or gods. Science, however, has effectively explained this occurrence as a result of disproportionate charges in the ground and in the clouds.
Likewise, a rationalist would likely assume that any unexplained phenomenon will one day be explained by science. Therefore these unknown "gaps" become smaller and smaller. This also explains why many theologies seek to repress and discredit scientific advancement.
This site costs a lot of money in bandwidth and resources. We are glad to bring it to you free, but would you consider helping support our site by making a donation? Any amount would go a long way towards helping us continue to provide this useful service to the community.

Click on the Paypal button below to donate. Your support is most appreciated!