Theists Gone Wild
From FreeThoughtPedia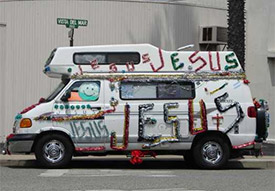 Theists Did What?
Amusing Theist Videos
Swearing, funky public access preacher
Jesus held ransom
Drunk on Jesus


Pissed off Catholic Mom:


Perhaps one of the most famous theists-gone-wild video is the infamous Wifeswap episode featuring the nutty theist from Ponchatoula, Louisiana:

Wait for it... wait for it...


Self-induced benediction fit:



Another clip from Jesus camp of a crazy, screaming Christian girl:

See also
This site costs a lot of money in bandwidth and resources. We are glad to bring it to you free, but would you consider helping support our site by making a donation? Any amount would go a long way towards helping us continue to provide this useful service to the community.

Click on the Paypal button below to donate. Your support is most appreciated!