Richard Dawkins
From FreeThoughtPedia
Richard Dawkins is an evolutionary biologist and Chair for the Public Understanding of Science at the University of Oxford. He is an outspoken atheist and author of many best selling books including The Selfish Gene, The Extended Phenotype, and most recently The God Delusion. He has been referred to as "Darwin's rottweiler".
Early Life
Dawkins was born on March 26, 1941 in Nairobi, Kenya, and named Clinton Richard Dawkins. His father, Clinton John Dawkins, was a farmer and former wartime soldier called up from colonial service in what is now Malawi. Dawkins' parents came from an affluent upper-middle class background. Dawkins describes his childhood as "a normal Anglican upbringing" but began doubting the existence of God when he was about nine years old.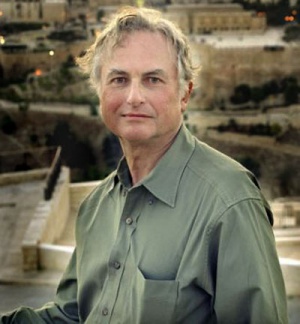 Later Life
He studied zoology at Balliol College, Oxford, where he was tutored by Nobel Prize-winning ethologist Nikolaas Tinbergen. He graduated in 1962, achieving MA and D.Phil. degrees in 1966, followed by a D.Sc. in 1989. From 1967 to 1969, Dawkins was an assistant professor of zoology in the University of California, Berkeley. In 1970, he was appointed a lecturer and, in 1990, a reader in zoology at the University of Oxford. In 1995, he was appointed Professor for the Public Understanding of Science at the University of Oxford; he held this position until 2008. Dawkins has edited a number of journals and has acted as editorial advisor for several publications, including Encarta Encyclopedia and the Encyclopedia of Evolution. He writes a column for the Council for Secular Humanism's Free Inquiry magazine and serves as a senior editor. He has also been president of the Biological Sciences section of the British Association for the Advancement of Science and is a Humanist Laureate of the International Academy of Humanism. He has sat on numerous judging panels for awards as diverse as the Royal Society's Faraday Award and the British Academy Television Awards.
Dawkins' Excerpts on FreeThoughtPedia
Other FTP Pages with Richard Dawkins
Video of Richard Dawkins
Short interview with Richard Dawkins
Richard Dawkins on his book, "The God Delusion"

Part 1:

Part 2: (taking questions)

External Links
This site costs a lot of money in bandwidth and resources. We are glad to bring it to you free, but would you consider helping support our site by making a donation? Any amount would go a long way towards helping us continue to provide this useful service to the community.

Click on the Paypal button below to donate. Your support is most appreciated!