Kali
From FreeThoughtPedia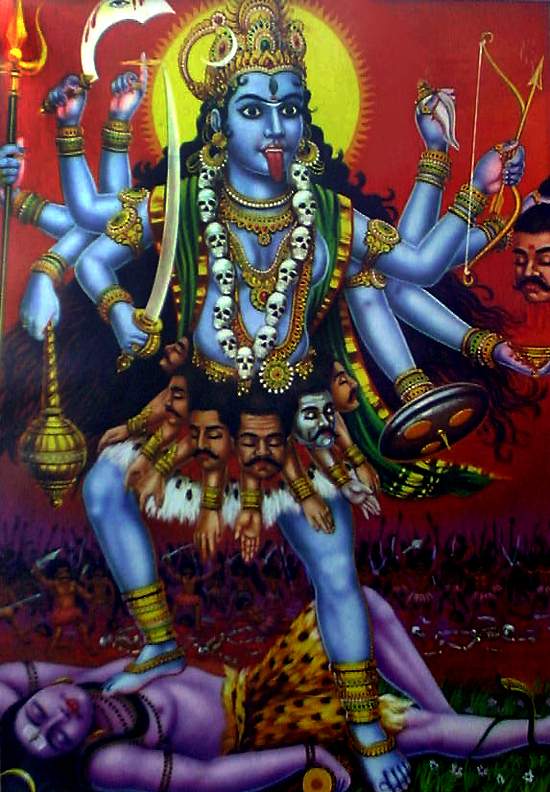 Kali, also known as Kalika (Bengali: কালী, Kālī / কালিকা Kālīkā ; Sanskrit: काली), is a Hindu goddess associated with death and destruction. Despite her negative connotations, she is not actually the goddess of death, but rather of Time and Change. Although sometimes presented as black and violent, her earliest incarnation as a figure of annihilation still has some influence. More complex Tantric beliefs sometimes extend her role so far as to be the "Ultimate Reality" or Brahman. She is also revered as Bhavatarini (lit. "redeemer of the universe"). Comparatively recent devotional movements largely conceive Kali as a benevolent mother-goddess.
Kali is represented as the consort of god Shiva, on whose body she is often seen standing. She is associated with many other Hindu goddesses like Durga, Bhadrakali, Sati, Rudrani, Parvati and Chamunda. She is the foremost among the Dasa-Mahavidyas, ten fierce Tantric goddesses.
This site costs a lot of money in bandwidth and resources. We are glad to bring it to you free, but would you consider helping support our site by making a donation? Any amount would go a long way towards helping us continue to provide this useful service to the community.

Click on the Paypal button below to donate. Your support is most appreciated!